A constant technical support
With products technically complex, LGR Packaging support throughout the projects is highly appreciated.

Performance of packaging, accessories integration, references rationalization, packaging mechanization, creation of designs and mock-ups, advice on materials or printing and finishing technologies: based on customer specifications and needs, LGR Packaging design offices offer a service tailored to each individual project.
A special expertise on complex inserts
Integrating inserts - simple or complex - within the packaging is an area where LGR stands out, both in terms of development and in the production of the packaging.

No more plastic wedges, polystyrene or other materials: LGR has 100% cardboard solutions to protect your products!
Flexibility and diversity
The LGR Packaging sites network covers large territories and offers high capacity, with an effective back-up between the different units.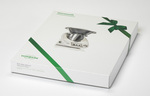 Complementarity is not only geographical, but also technical, with a variety of solutions and projects with variable scale: with a flexible organization and sophisticated equipment, LGR is positioned on both small series of large format or complex products, as well as medium and large series.