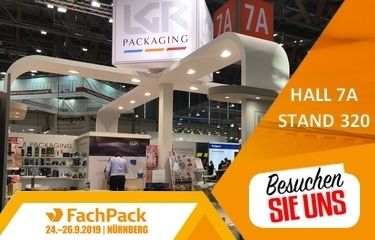 Eco-friendly packaging and e-commerce solutions, key themes of LGR Packaging at Fachpack 2019

LGR Packaging – European specialist in offset printed cardboard packaging – will put specific focus at Fachpack on sustainability and e-commerce, unveiling solutions to meet and exceed market expectations.
Sustainability has been at the heart of LGR Packaging's product and process innovation for the last years. Optimized designs, 100% mono-material cardboard boxes removing non-recyclable materials, features making pack recycling easier: eco-design is fully integrated in the pack development.
Responding to the new environmental regulations, LGR Packaging's Partner Duran Dogan has developed a plastic-free metallized packaging material : Gloss & Green•.
Gloss & Green• is an ecological no-foil metallization process offering customers sustainable premiumness with a high level of gloss and excellent recyclability, confirmed by various testing institutes. Gloss & Green• is the answer to premium packaging development of the future creating amazing marketing opportunities.
In the area of e-commerce packaging solutions LGR Packaging will show its latest developments, such as "E-volution", an innovative multi-use pack for the beverage market.
The E-volution packaging concept protects valuable content in a discrete way, creates a WOW effect at opening and enables brand owners to connect with end consumers. E-volution is an ideal tool to market beverages in the e-commerce distribution channel, certainly when enhanced with customized graphic design and value adding printing techniques.
Fachpack's visitors will also discover at LGR Packaging's booth its whole product portfolio: litho-laminated boxes for all consumer markets (food, wines & spirits, household equipment, DIY tools, toys, electronics…), Premium packaging, folding cartons and leaflets for the healthcare industry.
For any information or request for invitation, feel free to contact us !
Hall 7A - Stand 320