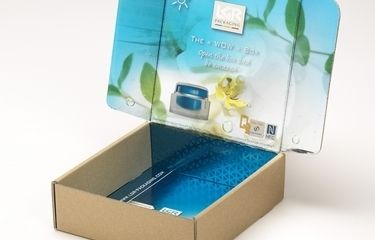 An astonishing, appealing and striking cardboard packaging: this is how we can define this box concept, which is particularly adapted to the e-commerce channel.
The litho-laminated box is neutral outside and ready to be shipped and delivered to the consumer, it perfectly protects the products. Thanks to high-quality inside printing (offset printing, and for a maximal "WOW" effect: metallized material Gloss & Green® offering a metallic or holographic aspect with a perfect brilliance, whereas it is 100% recyclable), the packaging arouses astonishment when it is opened, it amazingly highlights the product and the brand.
This box does appeal to the consumer, who can either keep it as it is or turn inside out to have a nice outside printed box to keep at home.
This concept is one of the solutions proposed by LGR Packaging for the e-commerce market. We would be pleased to present you further developments for this segment, so feel free to contact us for any question or study on this topic !